With OverDrive, you can borrow and enjoy free eBooks and audiobooks from your school library's digital collection. All you need to get started is an internet connection, your 5-digit student ID, and these three steps:
1. Browse
Use the library finder on overdrive.com or in OverDrive's mobile app to find your library or school's digital collection and browse for titles.
2. Borrow
Use your library card or student ID to borrow a title. Titles you've borrowed will appear on your bookshelfunder your account.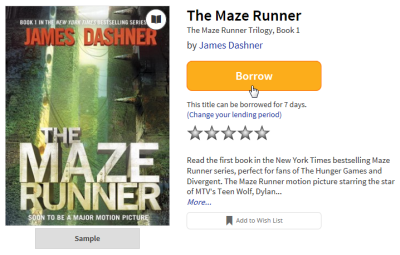 3. Enjoy
On your bookshelf, you'll find options for enjoying each borrowed title, like Read (read an eBook in your browser using OverDrive Read), Play (stream a video in your browser), and Download (available for eBooks and audiobooks).